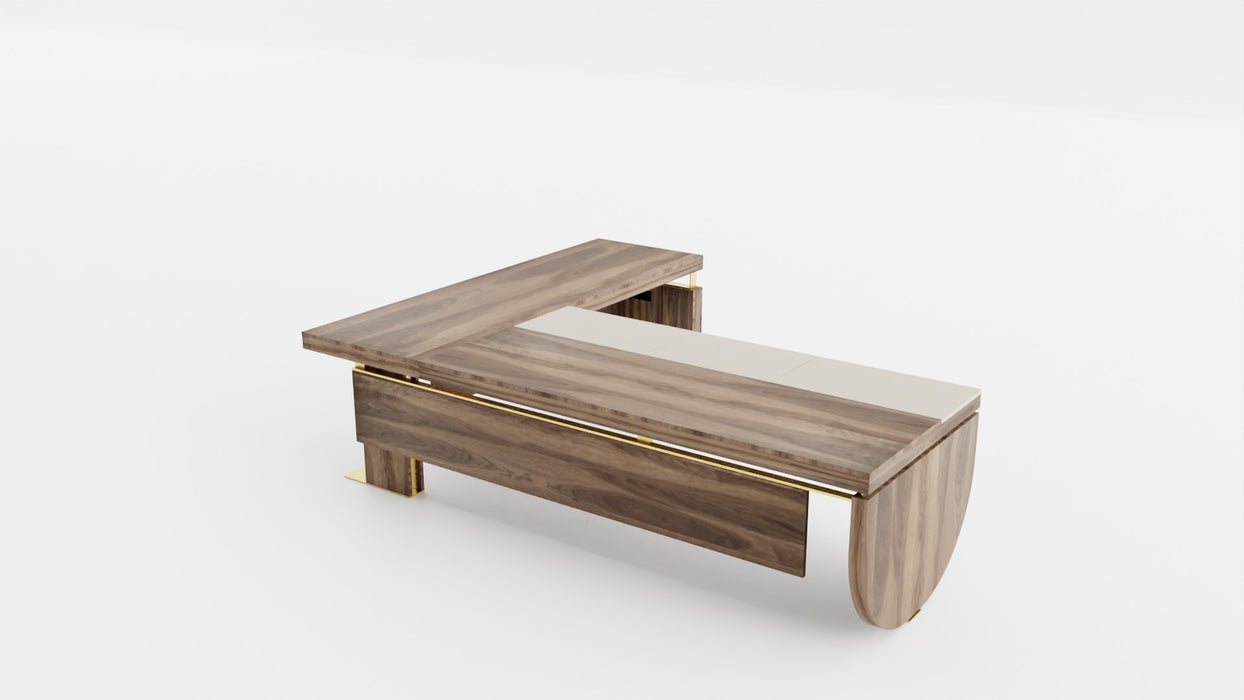 Executive Desk NARCISO with external extension L.270 cm, surfaces covered in eco-leather and wood.
Save

€4.856,36
Original price
€11.423,96
Taxes not included
Executive desk I ROVERESCHI.
A complex collection. Narciso is different from itself every time the point of view from which it is reflected changes.

The sharpness of the lines is surprised by the perfect roundness of a wooden leg in a semicircle that lifts a thick top, in which next to the wood you can outline a work space. The padding of the leather inserts and the moldings of the matte finished woods are added to the use of brass-colored joints, a distinctive element of Della Rovere products, which together elevate and embellish a design inspired by the interiors of fine manufacture of classic yachts.
Wood, brass-colored steel and burnished metals, padded and stitched leather alternate unpredictably even in the modesty panel, which becomes essential to the aesthetics of Narciso.
Measurements :
L 268,7 - P 220 - H 88,8
L 105,78" - W 86,61" - H 34,96"


Material :
TOPS: 58mm thick black matte coated poplar particle boards with walnut or chocolate oak finished edges, combined with 19mm thick real wood veneer upper panels and three 19mm thick wood particle boards covered in ivory or dark brown eco-leather. One of these three boards, the central one, will be sliding towards the user, creating space to access the object holder tray placed underneath the top panel.

STRUCTURE: The structure is composed of a leg with smooth panels, without cable management, or with a removable central panel for cable insertion (see cable management details on page 7) and a 58mm thick curved leg in walnut or chocolate oak finished real wood veneer. Between the straight leg and the top panel, there is a brass painted steel ring of 101x58mm section and 6mm thickness, as well as two bars and structural metal blocks in brass painted steel, drilled and milled by hand. The curved leg is attached to the top panel by a black matte coated wood strip and two metal brackets, and supported at the bottom by a brass painted steel plate. In the desk with an external extension, the modesty panels are mandatory as they are load-bearing.

There is also a central brass painted metal support leg closed by two 19mm thick real wood veneer panels in walnut or chocolate oak finish, supported at the bottom by a rectangular metal plate also painted in brass color.

Included in the package :
Hardware, diagram and assembly instructions.