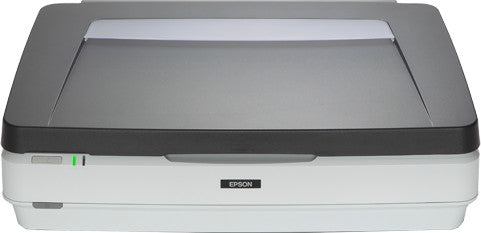 A3 format film and graphics scanner
High quality A3 graphics and film scanner capable of faithfully and extremely accurate reproduction of projects, x-rays and negatives.
Expression 12000XL

The Epson Expression 12000XL is a high resolution A3 scanner designed to meet the most demanding requirements of graphics applications. Featuring innovative Epson Scan imaging features and SilverFast Ai 8.8 image processing software, this LED light source scanner ensures perfect image reproduction.
Accurate reproduction of images
Thanks to the innovative scanning technology behind the Epson Expression 12000XL, users can reproduce quality images up to A3 in extremely accurate way. Easy to use, the Epson Scan program works in automatic or professional mode for optimal scans.
The optical density of 3.8 DMax and the 48-bit color depth of the Epson Expression 12000XL ensure sharp and accurate scans with perfect reproduction of a wide range of colors, even in shaded areas. Plus, with 2400x4800dpi resolution and ultra-high precision Epson Micro Step Drive technology, users can capture even the smallest details with exceptional clarity.
Main features
A3 Graphics Scanner: Professional quality results up to A3 size
Superior quality: 2400x4800 dpi resolution
High precision: Epson Micro Step Drive technology
Professional software: Silverfast Ai 8.8
Integrated TPU Reader: Reader for films and positives / negatives